Enero es un mes dedicado a la mítica banda de horror punk originaria de New Jersey: The Misfits. En esta ocasión presentamos algunos datos curiosos que todo seguidor tal vez ya conozca y otros no tanto.
1. El conocido luchador Vampiro Canadiense tras su arribo a la empresa WCW formó un team con Jerry Only quienes crearon una rivalidad con el luchador Dr.Death, el resto del grupo (Michale Graves, Doyle y Dr.Chud) fungían como rudos de apoyo.
Misfits con el Vampiro Canadiense


2. La mascota y simbolo oficial tiene su origen en el personaje de la cinta The Crimson Ghost cuyo titulo serviria ademas como inspiración para el tema de mismo nombre inculído en el álbum American Psycho.
En la etapa de Misfits Resurrection también se utilizo a un Frankenstein como animación en vivo.
Poster de The Crimson Ghots
3. Existe una versión del tema Archangel que fue grabada antes de que Glenn Danzig formará Samhain. La canción fue originalmente hecha para la banda The Damned pero finalmente Glenn optó por incluirla en el disco Initium. La primer grabación de este tema se realizó cuando aún se encontraba activo The Misfits por lo que cuenta con la colaboración de Jerry Only en el bajo.
Jerry Only y Danzig en la sesión de fotos para Static Age






4. Zoltan Teglas y Mike Hideous fueron vocalistas de gira tras las salidas continuas de Michale Graves. Solo el primero logró grabar una versión demo del conocido tema Dig Up Her Bones.
Zoltan Teglas
Mike Hideous
5. Contrario a lo que se piensa, Jerry Only no es el bajista original de la banda sino la mujer Diane DiPiazza quien junto a Glenn Danzig y Manny Martinez conformaron la primera alineación de Misfits antes de la salida del EP She/Cough Cool del cual ella misma fue la responsable del diseño.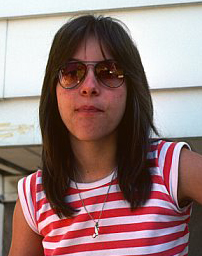 Diane DiPiazza
6. El guitarrista Bobby Steele quien aportaría su sonido en los discos Beware, Horror Business, Halloween, 3 Hists from Hell y Night of the Living Dead, afirma que su salida de Misfits se debió al control absoluto que Jerry Only quizo tener frente al grupo así que al incluir a su hermano Doyle esta tarea resultaría mucho mas facíl. Tras su expulsión se puede escuchar en algunas grabaciones en vivo como la banda lo insulta en el tema
Teenagers From Mars.
Bobby Steele asegura que dichos insultos se deben a que en ese momento se encontraba presente una pandilla de
skin heads
por lo que Jerry y Glenn aprovecharon la oportunidad para lucirse un poco insultando al ex guitarrista.
Bobby Steele
7. Tras la separación de la primera etapa de Misfits. Jerry Only y Doyle deciden formar una banda con tematica fantasía/cristiana en respuesta al concepto satanico que Glenn Danzig hacía con Samhain. El resultado fue Kryst the Conqueror, que contaba con la voz de Jeff Scott Soto y David Calabrese en la batería quien mas tarde sería conocido como Dr. Chud.
En su única grabación realizada se encuentra el tema original Dr. Phibes Rise Again que despues sería usado como intro nombrandolo Abonimable Dr. Phibes para el disco American Psycho y tiempo después volvería a grabarse con Michale Graves en la voz para el disco de rarezas titulado Cuts From the Crypt.
8. Al igual que en la mayoría de los temas dedicados a las películas de horror y serie B, el sello discográfico PLAN 9 creado por Glenn Danzig, es un homenaje a la cinta de horror de nombre Plan 9 From Outer Space, ridiculizada en su tiempo y considerada hoy como una película de culto en el cine de horror clásico.
Misfits con Vampira
9. La razón por la que Misfits aparecen en la cinta Bruiser es debido a que el reconocido director George Romero padre del genero horror zombie se ofreció a dirigir el videoclip Scream a cambio de que estos aparecieran brevemente en su película.
Misfits con George Romero
El tema original Bruiser fue publicado tiempo después en el disco de rarezas Cuts From the Crypt.
10. A pesar de que la última alineación ha sido fuertemente criticada y no acpetada por muchos, esta tiene mucha trayectoria para respetarse.
El guitarrista Dez Cadena fue cantante y guitarrista de la legendaria banda de hardcore Black Flag, agrupación que influyó fuertemente para el nuevo sonido de Misfits dando como resultado el disco mas veloz de Misfits: EARTH AD.
Por otra parte el baterista Eric Arce ya hacía prescencia desde que Marky Ramone y ROBO se encontraban en la banda, supliendo a ambos cuando no podían presentarse debido a compromisos ajenos.
Recientemente se ha incorporado a las filas el guitarrista Gerald Caiafa, hijo de Jerry Only quien colaboró como guitarrista de sesión en el EP Twilight of the Dead y en el último disco Devils Rain.